Call 800-916-7873 in the USA
Text your questions to 269-601-4965
#iaqdriveseverything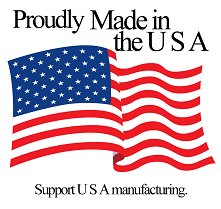 ---
Our mission is to rescue the victims of abusive high pressure sales by empowering them with information, rewarding them with savings and retaining them with customer service.

---
For our Canadian customers, there may be taxes and duties on your shipments now that our operations have moved to the USA.  We apologize for any inconvenience.

Compare the washable electrostatic air filters with the Electro Breeze air cleaner
Call 800-916-7873 to trade in your washable electrostatic air filters
toward the purchase of the Electro Breeze air cleaner!
Shipping is delayed about 3-4 weeks, but if you need a pad right away, just let us know in the special instructions during checkout and we'll get one to you right away at no additional charge.
Thank you for your patience as we follow procedures to ensure the safety of our employees as well as the safety of our customers.
     Recently, we have been getting questions about washable electrostatic air filters and how they compare to the performance of the Electro Breeze electronic air cleaner.  Remember, electrostatic is not the same as electronic.  The Electro Breeze air cleaner is electronic and is continually charged by the flow of electricity.  Electrostatic filters are charged once at the manufacturer or depend on the air flow to enhance their charge and are much less effective at air cleaning.
     Some of the most popular washable electrostatic filters come in two styles, the Silver series and the Gold series.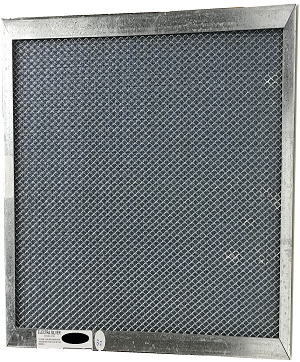 The idea of an electrostatic washable permanent filter may seem like a great idea, since you never have to buy a new filter again (that is their claim), but at a closer look, you find the air cleaning ability of these filters leaves a little to be desired.  Notice below: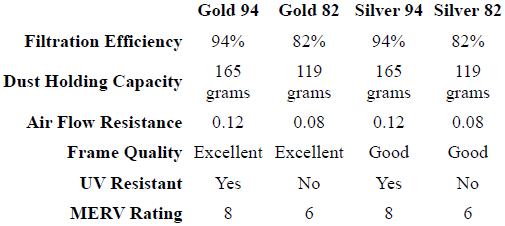 The first thing you may notice is the Filtration Efficiency at 94% or 82%.  That sounds good, but the missing information is the size of the particle that this efficiency is referring to.  Looking to the bottom line at the MERV rating, you can be pretty sure that this efficiency is referring to particles in the range of 3.0 micron and larger, since the MERV 8 rating indicates a low efficiency filter.  See our MERV chart below.


     The next feature is Dust Holding Capacity, which means very little to homeowners since they are supposed to wash the filter once a month.  Not much of a chance of the filter loading to capacity in one month, since most of the dust is being caught on the face of the filter.  Dust particles at the size of 3.0 micron are considered large particles and will face-load the filter.  That means the dust is unlikely to reach the middle of the filter.  A true electrostatic will load from the inside out.

     The Air Flow Resistance tests out at 0.12 for the 94% and 0.08 for the 82% (we assume this to be inches per water gauge).  Again, there is missing information here since it doesn't mention how fast the air is flowing through the filter.  The faster the air is flowing, the higher the resistance.  This won't be good for your furnace or air conditioning unit if the air flow for the test is any slower than 300 fpm.
     Frame Quality is subjective and the unit that we purchased for review (Electra Silver) allows for more than 1/4" of movement of the filter pad inside the frame.  This brings into play the possibility of air by-pass around the edges of the filter pad inside the frame.  Also, the frame corners have no overlap to seal the corners, so there will be some amount of by-pass to be considered.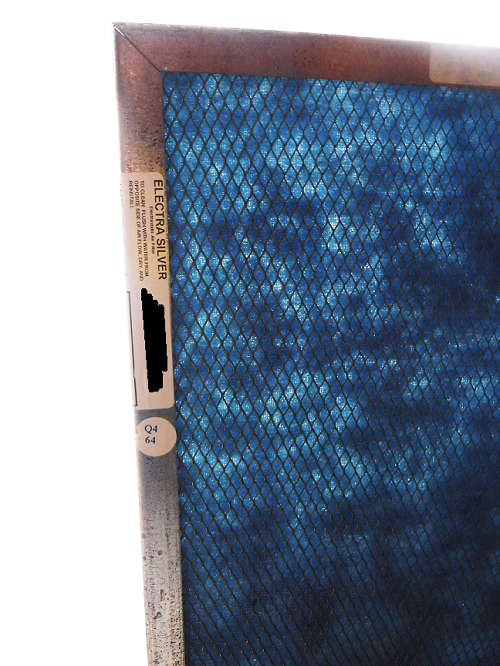 Noting that the filters are resistant to UV (ultraviolet) is a worthless fact, since exposure to UV voids the warranty.  Nearly all filters are made with material that is resistant to UV, since UV units are often coupled with a quality air filter.  The warranty is here for you to review:

Limited Lifetime Warranty
(Product Name) warrants its filter to be free from defects in material and workmanship, to the original purchaser, for the life of the unit in which it is installed. If an air filter is determined to be defective in materials or workmanship, it will be repaired or replaced without charge to the customer.

For claims under this warranty, defective filters should be returned to the place of purchase along with proof of purchase, an explanation of the defect, and shipping charges prepaid. This limited warranty covers materials and workmanship only and shall not apply to any air filter which has been modified or altered in any way, or which has been subject to misuse, excessive heat, exposure to ultraviolet, or improper installation. Customer disassembly of the filter will void this warranty.

Other than this written warranty, there are no other warranties expressed, implied, or otherwise made regarding the merchantability or fitness of this product for a particular use. This warranty give you specific legal rights and you may have other legal rights which vary from state to state.
---
Compare washable electrostatic air filters to the Electro Breeze electronic air cleaner
---
     We do recommend the Electro Breeze air cleaner that will clean your indoor air at an efficiency of 97% down to 0.3 microns (the breathable dust particles).  The built-in carbon core will help to eliminate VOC's and other harmful gases and odors.  The entire system is easy to install and maintain.  Watch our video here to see how easy it is to install.

Electro Breeze 1 Inch Electronic Air Cleaner

Nearly HEPA performance at a fraction of the cost!

     Electro Breeze is the perfect retrofit to replace your furnace filter with a high efficiency whole house air purifiers.  Simply remove your 1 inch filter and replace it with the Electro Breeze electronic air cleaner and plug it in.  Your furnace is now a whole house air purifier cleaning 97% of airborne particles down to 0.3 microns (What is a micron?).  Removing the harmful particles that become asthma triggers, allergy symptoms and multiple chemical sensitivity symptoms.  Now you can rest in your own home in warm or cool temperatures.  In fact, the more you run your furnace fan, the more you are cleaning your indoor air.

Compare with Dynamic air cleaner, Nature's Home MicroPower Guard® air cleaner and One Hour Xenon MicroPower Guard® air cleaner


The size of your current furnace filter will be the size you order.  Call for custom sizes (no extra charge).


Electro Breeze air cleaner panel
(less than 24x24 or 570 sq in)  $395.00


---

Electro Breeze air cleaner panel
(larger than 24x24 or 577 sq in)  $409.00

Your purchase will include: Electro Breeze air cleaner panel in your size, a 24 volt transformer and five replacement pads.  The appropriate lead wire is also included for those who wish to wire directly to their furnace.  Change your first pad after one month of use, then change out every 2-4 months, thereafter.

Please note that checkout will be through our parent company Air Life Environmental Products, LLC.  Thank you.